EagleGet downloader free download
Description :
EagleGet is a download manager that can be fully integrated with all the most popular browsers: Firefox, Internet Explorer and Google Chrome.
The program is superior to competitors by speeding up downloads with its multitasking technology. It also supports HTTPS, FTP, MMS and RTSP.
It integrates with your browser, so you only have to click on a link to have the download added to the EagleGet download list.
You can also download YouTube videos by clicking an icon that automatically appears on all videos. This feature can be used to download as many videos as you want.
You can easily keep up to date with the progress of your downloads through the program information bar, which is always visible in the upper left corner of your screen and displays the speed of all your current downloads.
EagleGet is an exciting download accelerator that allows you to upload your favorite YouTube videos and is compatible with the most popular browsers.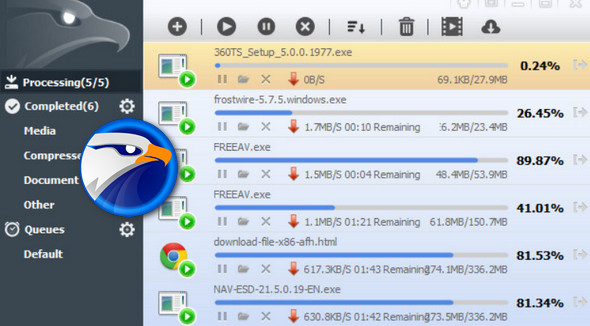 Features :
Significantly increases download speed
EagleGet uses advanced multi-threaded technology to speed up downloads by splitting files into multiple parts and transferring them simultaneously, so the download speed is increased up to 6 times!
Easy resume of interrupted downloads
System crash, loss of connection, power outage … No matter the reason for download interruptions, you can still resume interrupted downloads with a single click. Our advanced multi-threaded technology saves your time, nerves and money.
Supports all popular browsers
EagleGet supports all popular browsers such as Chrome, Firefox and IE. Whatever browser you use, you can still enjoy the maximum download speed without limitation.
Download HD audio videos and all sites
EagleGet automatically detects media content on any website. Including, but not limited to, Facebook, Dailymotion, Google Video and adult websites. You can download HD videos from Chrome, Firefox or IE.
Specially optimized for HD
With EagleGet you can download high-quality, 1080p HTML5 videos and 720p HD video when available. EagleGet offers a higher-end experience faster and smarter than other similar products.
Convert videos from web to MP3 (soon …)
EagleGet can not only download HD Web videos, but also acts as an audio converter. You can convert the downloads on and other music videos into audio files in MP3 format and thus get ringtones for iPhone and other mobile phones by simple clicks.
EagleGet can automatically run an antivirus to perform a scan after downloading, such as Avira AntiVir, AdAware, Avast, Spybot, AVG AntiVirus, McAfee, SpywareBlaster, and others to protect against Virus, malware or spyware.
Freeware, efficient and free
Whether you're a beginner or an expert, EagleGet's well designed interface will help you do more with less by maximizing your productivity. Unlike other popular downloaders and video converters, EagleGet is completely free.
EagleGet downloader free download
 File size : 6.18MB
Version : 2.0.4.22